We have in stock WET SUITS for KIDS-ADULT, BOARD SHORTS, RASH GUARDS, SIZE XXS-BIG SIZE XXL. We also stock SOFT BOARDS for beginners. Competitively priced short boards, fun boards, and Long boards. Please come and check out our inventory. We carry Quiksilver, Billabong, Volcom,  NIXON,  Vonzipper, havaianas, beach sandals, Headhunter sunscreen, Aloe gel, Bodyboards, Da Fins, Da kine leashes, FCS, Futures fin, WAX and more!!
SURF POINTS IN SHIMODA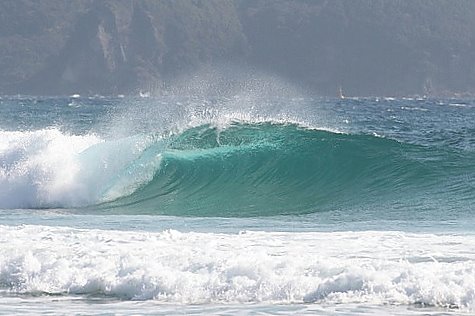 Surrounded by beautiful forest, mountains and white sands, Shimoda has some of the leading surf spots in Japan. The ocean water in Shimoda has been verified A-AA by the prefectural water examination committee. Because Shimoda is located at the southern tip of the Izu peninsula, it catches west, south and east swells making it possible to surf all year round. Shimoda is one of the best surf spots in Japan leading to its great popularity.


SHIRAHAMA
OFF SHORE
W、SW、NW、N


TATADO
OFF SHORE
NNE、NNW、N

IRITA
OFF SHORE
W、NW、N

OHAMA
OFF SHORE
W、NW、N
Access
How to get to Shimoda from Tokyo
The simplest way is to take the Odoriko train(Express train) from Shinjuku or Ikebukuro. Or Odoriko Superview is super express train.
Izukyu-Shimoda station is the last stop.(About 2 hour 45 minutes from Tokyo)
Store Location
REAL SURF SHOP is about a 10-minute drive from Shimoda station.
To get to Kisami from Izukyu Shimoda Station you can take a bus or Taxi.
Take a taxi and say"Kisami Family Mart" to the driver. A store is next to Family Mart.
Take a bus to Minami-Izu.
Get off at Kisami bus stop and walk to Straight, walk past Family Mart,then take a 1-minute walk and you will see us on your left.
Address
1612-1 Kisami Shimoda City Shizuoka Pref Japan Zip 415-0028
Tel:81-558-27-0771 E-mail:info@realsurf.jp
business hours
10:00 ~ 19:00  Open throughout the year (May be closed on Big wave days)
SURFING SCHOOL

Welcome everyone; kids, teens, adults! Come and experience the joy of surfing. We want everyone to have a chance to feel the surge of one of natureユs most awe-inspiring forces. Why not learn to surf while taking advantage of emerald green waters and white sandy beaches, and enjoy a week of fun in the sun? No matter what kind of training you need, we offer a program to match.
The surf lessons include ocean awareness, surf etiquette, paddling techniques, and wave riding. Enthusiastic and qualified instructors coach these features in a welcoming format that is fun and encouraging.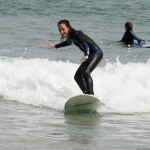 "Surf Lesson" package ¥13,750(within Tax) person for 2.0 hours instruction(within insurance) Includes:
1.Surfboard/soft board usage
2.Wetsuit usage
3.Lecture on beach
4.Surfing "pop up" demonstration on beach
5.Surfing skills instruction in water Real's instructors all hold International Surfing Association (ISA)Level 1 accreditation, so you'll be in safe and experienced hands.
6.1 instructor x 2 people.
7. You can catch a lot of waves for 2 hours.
8.Free rent for after the surf lesson.You can surf free sessions.


They've already taught people from the USA, UK, Australia, Italy and Russia, as well as budding boarders from the British School in Tokyo and American School in Japan's Ocean Camp.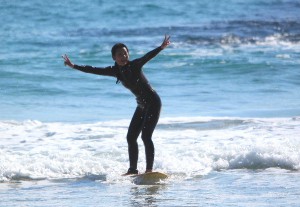 Lessons usually start at morning session 10:30am and start at afternoon session 13:30 Monday thru Sunday. All lessons are by appointment and must be pre-booked.
Please reservation in groups of two or more.
All online reservations must be made at least 24 hours prior to the date and time you want to book.
Surfing Lessons Cancellation Policy: A full refund will be given to any cancellations made up to 72 hours prior to your reservation date.
RENTAL
A one day rental is from 10 A.M. until 5 P.M.
Deposit is ¥10,000-
Long board, Fun board 1 day rental is ¥4,000 + Tax
Short board 1 day rental is ¥4,000 + Tax
Wetsuit 1 day rental is ¥2,500 + Tax
You will be responsible for fees for damages to surfboards.
Stand Up Paddle lessons
Shimoda at one of the MOST SPECTACULAR locations in Japan.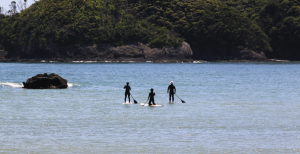 Stand Up Paddle boarding has reemerged as a way for people to enjoy oceans, lakes, rivers and bays using a one-bladed paddle and standing on a longer and wider surfboard.
We offer beginner and advanced stand up paddle lessons for anyone that is interested in taking the challenge of trying out this awesome new sport.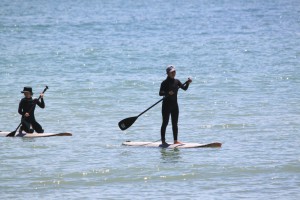 Standup Paddle Boarding (SUP) provides you with a total body workout and allows for a great view.
In just a few sessions, you will improve your balance & coordination as well as your strength & endurance.
Stand-Up Paddle is easier than surfing and you are guaranteed to learn!
All of our lessons starts out on the flat, calm waters.
All students must be able to swim. Life jackets available for weak swimmers (please ask ahead of time).
Beginner and Advanced Lesson: ¥9,000+TAX per person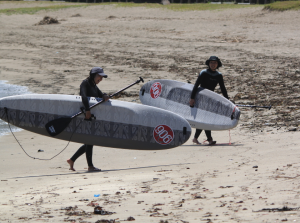 Additional Information:
• All lessons are 1.5hr in length.
• All lessons are Two person private class
• All of the equipment is included within the price.
• All of our lesson charges are per person.
• All online reservations must be made at least 24 hours prior to the date and time you want to book.
Lessons usually start at morning part10:30am and afternoon part 13:30 Monday thru Sunday. All lessons are by appointment and must be pre-booked.
Stand Up Paddle Cancellation Policy: A full refund will be given to any cancellations made up to 72 hours prior to your reservation date.
The Best Summer Ever!!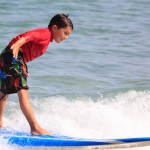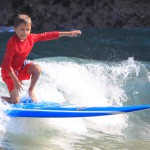 My two boys, ages 5 and 7, were lucky enough to start surfing lessons in July with Real Surf Shop's English-speaking and super-friendly owner, Naoto Suzuki. The lessons are a one-stop breeze for me: a quick stop in the Real Shurf Shop to determine with Suzuki-san when the next best surfing day will be, and at the appointed hour Suzuki-san arrives with his brilliant white smile and incredibly friendly and easy manner. He brings along kid-sized wetsuits and surfboards and in a flash they are ready to hit the waves. On a colder day Suzuki-san brought along thicker wetsuits, he clearly gives each lesson a great deal of thought. Each lesson starts with a good warm up on the beach which the kids love, they giggle all through the stretching and twisting moves. Once in the water, Suzuki-san exudes such confidence that the boys splash in after him, desperate to catch that first wave. Suzuki-san is such a natural in the waves that as he rides each wave in with the boys, they beam with pride as though they did it all by themselves.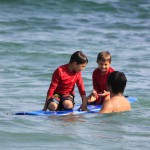 After each lesson my boys want to know when the next one will be, having watched Suzuki-san work his magic with my sons I am even contemplating giving surfing a try. Even with their lips blue and teeth chattering, I've watched my boys beg to go out for 'just one more' wave. Not only have they learned the rudiments of surfing but taking surfing lessons has also greatly improved their boogie-boarding ability and overall wave and ocean confidence. Best of all, with the right wetsuit, surfing in Shimoda can be year-round so we intend to continue our surfing lessons right through to winter. If you are looking for a great way to spend the afternoon watching your kids, or looking for a new adventure for yourself, look no surfer than Surf Shop Real's fabulous instructor/ owner Suzuki-san.
Julianne
---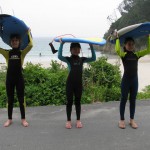 13th and 14th of June 2009.Wonderful surf class by Suzuki-sensei in Iritahama beach.We enjoyed it very much and need to practice more now. Looking forward to going again!
Valentine (11 year old) and Ferdinand (12 year old) from France.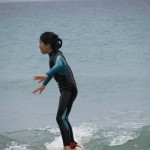 I like real surf lessons so much because i got stand up on the board in less that 15 minutes!It never got boring and also my dad is a surfer and he tries to teach me how to surf but I'm scared cause he always tricks me… but now i feel so confident to surf!
Lisa(11 year old)
I loved the surfing, it was really fun. It was my first time and in one lesson I learnt how to get on the board and ride a wave really easily. My teacher, Suzuki san was very kind and managed to teach me even though I do not speak much Japanese. This is a fun thing to do in Shimoda.Elodie, 10 years old
---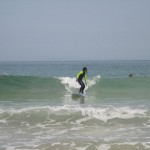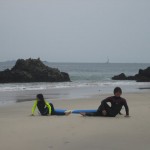 I went to Shimoda last weekend and I had my first surf lesson with real surf.I did 1 hour and a half for 2 days and I really enjoyed it. The teacher from Real Surf made me feel comfortable and was really patient with me.I tried a lot of times to look for surfing lessons, but nobody spoke English, my teacher spoke English very well and it wasn't hard for me to understand.I learned tons of things in just 2 days!!The way they teach is really awesome, because i wasn't bored and I never wanted to stop. Real Surf is the best place to learn surfing!!Thank You soooooo much for teaching me!! I really hope I can come back!
Nastia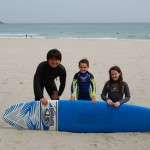 First we learnt on the sand how to get up on a board and then we tried in the sea. I stood up on my first lesson and I want to go again.
Laszlo, 6 years old
"Suzuki-san from the Surf shop Real has helped me and 7 of my friends learn to surf in Japan. Suzuki-san is the only English speaking instructor we could find in the Izu area – he helped with boards, wet suits (he has large sized wet suits) and lessons. Everyone was surfing by the end of our 1.5 hours lesson! I would highly recommend learning to surf with Suzuki-san from the Surf Shop Real". "Iritahama is the best beach, it's clean, not so crowded and has white sand. It takes only 2.5 hours to get to the beach from Tokyo – I think it's the best beach in Japan".
Melanie (Australian living in Tokyo)
---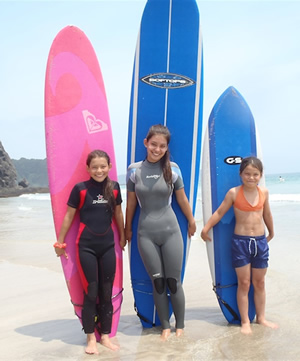 Ich hatte sehr viel Spass an diesem Tag und haette nie gedacht, dass ich schon am ersten Tag alleine auf dem Surfbrett stehen kann. Dies verdanke ich nur dem gutem Lehrer! Da die Schweiz kein Meereszugang hat, muss ich wohl naechstes Jahr wieder kommen ;)
Vielen Dank!!!
Sarina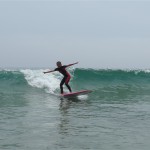 Alli schwiezer wo wend surfe , es isch voll luschtig gsie!Miyuki
Owner's Profile :Naoto Suzuki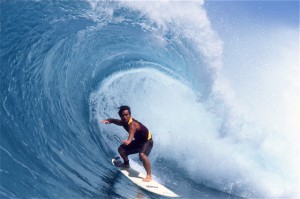 2018,2017.2016.2015.2014.2013.2012 American School in Japan:Middle school // Surf lessons Producer
2018,2017,2016,2015 American School in Japan:High School // Surf lessons Producer
2018 New International School of Japan:High School // Surf lessons Producer
2015 International Surfing Association certified surf Instructor:Level 2
International Surfing Association certified surf Instructor:Level 1
Former Professional Surfer
The British School in Tokyo:Surf lessons Producer
2003/Dec Hawaii Triple Crown "Haleiwa Open" Surfing Contest Judge
The former Japanese representative for World Surfing Championship
The former Junior division Winner for All Japan surfing Championship
"THE SURFER'S JOURNAL ・VOLUME 18・NUMBER 3・JUNE-JULY・2009"
Faces of Japan ・ Naoto Suzuki
Naoto dosen't have a scruffy beard,wer paint-splattered pants, or listen repeatedly to the Morning of the Earth soundtrack, but he is living Japan's version of country soul.He owns Real Surf Shop in Shimoda, which looks like most Japanese surf shop albeit with Andy Davis paintings on the walls and retro boards on the racks. He is a shaper and proudly showed me a titillating mini-alaia. He gives surf lessons, and on a scorching Sunday at an idyllic cove, I watched him push a young Russian girl and a middle-aged Japanese man into turquoise shorebreak. What tied it together for me, though, is the fact that he lives with his wife and two daughters in a house abovehis shaping room and shop, creating a kind of seamless link between family, art, and commerce. Not to mention the three-minute drive through rolling green hills to numerous ricocheting beachbreaks and reeling points. Writer // Jamie Brisick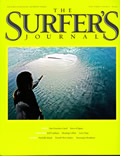 OUR FAVORITE FOOD
Ristorante Mario Mare (White Beach Hotel)
TEL:0558-23-2039
1902 Kisami,Shimoda-shi Shizuoka-ken, 415-0028
From Shimoda drive 8 minutes towards Minami-izu, turn left at the intersection with the sign for Ohama.
Business hours 11〜22
Parking for 10 cars
Menu: Pizza,Pasta,Seafood,Grilled,cocktails,Desserts
Italian restaurant Toscana style,
South cafe
INFORMATION
415-0028 Shizuoka-ken, Shimoda-shi, Kisami 918-2
From Shimoda drive 8 minutes towards Minami-izu and you will find us on the right side
TEL/0558-25-5015
Business hours/12:00〜24:00
Closed Thursdays
Parking for 8 cars
Menu: Mexican food, Pasta, Curry, Casserole, etc.
Comfortable, relaxed resort atmosphere
Spice dog
INFORMATION
415-0028 Shizuoka-ken, Shimoda-shi, Kisami 1535-1
From Shimoda drive 8 minutes towards Minami-izu and you will find us on the right side
TEL/0558-23-2845
Business hours/11:00〜22:00
Closed Wednesdays
Parking for 20 cars
Menu: Curry, Pasta
A great community atmosphere often offering live music and other events
ACCOMMODATION (Hotel staff can speak English.)
Super Nice Ocean View, 3 Minute walk to the Nabeta beach.Good for SUP!!

Great Location, 20 seconds walk from the Ohama beach.
60 seconds walk from the white Ohama beach.
located on the oceanfront of beautiful Tatado Beach.hot springs!!
vacation/holiday rental cottages. 7 minute walk to Irita-hama beach.
Individual Cottage / House. Deep Forest Cabins and Valley Cottages.